Who is Park Romney and what's all the fuss?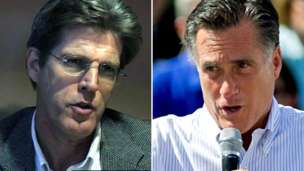 Who is the Park Romney referred to by Las Vegas blogger, Vegas Jessie, as "The Real Romney" in her article,
Why is Willard (Mitt Romney) Running away from the REAL ROMNEY
? Who is the Park Romney referred to as
"A Romney We Should All Listen to that isn't Mitt"?
Who is the Park Romney who referred to the Mormon Church as
"an insidious contemporary fraud"
, and raised serious questions about
Mitt Romney's religious conflicts of interest
and relationship to that fraud as an active High Priest of the Mormon Church? Who is the Park Romney who referred to the leadership of the Mormon Church as "Masters of Mendacity" in an interview with John Sweeney of the BBC?
Not to be confused with Park Romney, former BYU Baseball outfielder #29, or C. Park Romney, author of the notable "scholastic" work
Raising Rabbits at Home
; or Douglas Park Romney of Spokane, Wa.; or Anson Park Romney of Pleasant Grove, UT; or Park Farnot Romney who is Park Romney's son, an electrician in the Palm Springs area of California (and whose public records and credit records are often inappropriately reported as his father's); all of whom descended from the same Mormon Polygamist,
Miles Park Romney
; this Park Romney, a former Chief Financial Officer of a public corporation, former High Priest of the Mormon Church, and now an outspoken critic of Mormonism and
Mitt Romney's campaign for the Presidency
, is a "black sheep" from the
polygamist family
of Miles Park Romney.
Having awakened to the unavoidable spectre of the
fraud of Mormonism
, he is now a serious threat to the faith of future generations of Mormons including the Romney family, and an equally serious threat to the continuity of the public deception by an
avaricious American Cult
masquerading as a Christian religion while engaging in
egregious exploitation, in time, talents, and resources, of the faith of the naive lay members of the Mormon Church
. (Featured video clip is from
DNA vs. The Book of Mormon
video masterfully produced by Living Hope Ministries.
For full video, click here.
)
Click here to learn about Park Romney of Park Romney Research.
In keeping with Mormon tradition, acknowledgment of Park Romney's patriarchal heritage is relevant to an understanding and appreciation of his perspectives as an ex-Mormon and his objectives as stated in his book,
The Apostasy of a High Priest - The Sociology of an American Cult
. It is Park's desire and intent to make restitution for the mistake of converting others to faith in the Mormon Church which
has been exposed as a fraud
.
Park formally
resigned from the Mormon Church
requesting, by letter personally delivered to then Stake President Steve Jackson of the Palm Springs, California Stake, that his name be removed from the records of the church. His request was granted as evidenced by responsive correspondence from the office of the Presiding Bishop of the Church informing him that his name had been removed from the records of the Church at his own request.
Subsequent to this letter, Park has been informed and otherwise has reason to believe that Mormon leaders made a decision to formally excommunicate him, after the fact of his resignation. He has been informed that church records currently show his status as "Excommunicated". We are aware of reports that members and representatives of the Mormon Church have told others that he was "excommunicated" with no further explanation of the circumstances. Such would be consistent with continuing reports of Mormon practices of
historical revisionism
, and calculated
defamation and other abuses against apostates
.
Park is the son of Milton Romney, aka Milton C. Romney or Milton Clair Romney.
Milton Romney, aka Milton C. Romney or Milton Clair Romney, son of Park Romney
Milton C. Romney is Park Romney's father. Park Romney was born to the marriage of Milton C. Romney of Salt Lake City, Utah, and the late Evelyn M. Brannock, of Ontario, Oregon, on March 17, 1956, making Park Romney a late "Baby Boomer". Park is one of five siblings. Other siblings include, Dan B. Romney, Becky Romney (now Becky Collet), Vicky Romney (now Vicky Diak), and Celeste Romney (now Celeste Bird).
Milton C. Romney, an active Mormon, served his LDS Mission in Hawaii, assigned particularly to the Japanese speaking mission of the LDS Church in Hawaii. After his mission for the LDS Church, Milton joined the U.S. Navy, was trained as an officer at Anapolis and Harvard, and enjoyed the distinction of being an officer in part of the convoy of 42 war ships landing in Tokyo Bay and present in the Bay for the signing of the
unconditional surrender by the Japanese
before The Supreme Commander of the Allied powers, US General Douglas MacArthur, on the deck of the Battleship, USS Missouri.
Milton C. Romney and Evelyn M. Brannock were divorced while Park was serving an LDS Mission in South America in 1976. Milton married his second wife, Carrie Kowalis, in 1977. Park's name is omitted from Evelyn's family geneology found online at
this web address
(as of the date of this posting).
Milton C. Romney is a son of the marriage of Park Romney (son of Miles Park Romney) and Mary Vilate Lee.
Park Romney, son of Miles Park Romney
Park Romney was the fifth child born to the marriage of Miles Park Romney and his third polygamist wife,
Catherine Jane Cottam
, in St. Johns, Arizona. At the time of his birth Catherine Jane Cottam was among other plural wives who were being sought for prosecution by the U.S. Marshals for violation of laws against polygamy. The family relocated to Mexico to avoid prosecution. As an adult, Park Romney married Mary Vilate Lee and resettled as a farmer and carpenter in Cache Valley, Utah. Park Romney is an uncle to the late Governor George Romney, of Michigan who is Presidential candidate Mitt Romney's father. This Park Romney exchanged personal correspondence with Governor George Romney, in which George Romney made reference to his fond memories of visiting "Uncle Park's farm" in Cache Valley, Utah.
Miles Park Romney, Mormon Polygamist, son of Miles Romney
Miles Park Romney is a Mormon Polygamist and noteworthy Mormon Pioneer. He was born to the marriage of Miles Romney and Elizabeth Gaskell in Nauvoo, Illinois, the last Mormon settlement under the political and religious "authority" of the original Mormon "Prophet" Joseph Smith, prior to his (Joseph Smith's) incarceration for inciting a riot in which the offices and printing presses of the The Nauvoo Expositor were destroyed.
Joseph Smith had learned that the Nauvoo Expositor was about to publish exposure of details of his secret polygamy that predated subsequent "revelations" justifying it as "ordained by God". (The actual polygamy and polyandry of Joseph Smith, involving the "marriage" of minor children, as young as 14, the concurrent "marriage" of women already currently married to other men, and the concurrent "marriage" of related women, has never been reconciled with the revelations on "acceptable" polygamy professed by Joseph Smith.) Joseph Smith declared martial law and ordered the Nauvoo Legion, composed of faithful Mormon followers, to enforce the destruction of the facilities resulting in charges of treason against the State of Illinois.
Joseph Smith, then a Master Mason who had
violated blood oaths of Masonry by incorporating secret Masonic rites into his Mormon temple ceremonies and rites
, was assasinated at Carthage Jail by a mob principally composed of Masons. While never proven to be the motivation, the assasination was consistent with the blood oaths and covenants of Masonry that were violated by Joseph Smith.
The Miles Romney family emigrated west to ultimately rejoin the Mormons who followed under the subsequent leadership of Brigham Young, also a Master Mason, in Utah after the assasination of Joseph Smith and expulsion of the Mormons from Nauvoo.
Questions remain unanswered why Master Mason Brigham Young was permitted to leave Nauvoo with his life. Brigham Young's successive leadership of the Church did not come without controversy. Many believed a son of Joseph Smith was the rightful successor which gave rise to the formation of the Reorganized Church of Jesus Christ of Latter Day Saints at the time. Speculation continues that Brigham Young was actually "installed" with a secret agreement with the Masons involving the payment of secret tributes and secret cooperation.
No such speculation has ever been proven. However, anecdotal evidence to this effect is hard to ignore in view of certain facts that are beyond the scope of this article. With delicate efforts and the passage of time, social acceptability is carefully managed by those whose interests require it. The
Grand Master of the Masonic Lodge in Salt Lake City
, today (as of the posting of this article) is a Mormon.
Miles Romney was assigned by, then "Prophet", Brigham Young, to resettle, with his family, in St. George, Utah. In later life Miles Park Romney became the president of the St. George Social Hall Company and the St. George Dramatic Association, and also served as a chief of police, attorney-at-law, newspaper editor, and architect.
Miles Romney, father of Miles Park Romney, English immigrant.
Miles Romney was born on July 15, 1806 in Dalton-in-Furness, Lancashire, England to the marriage of George Romney, Jr. and Sarah King of Lancashire. He was a carpenter by trade. In 1837 Miles was converted to the Mormon faith as a result of hearing the street preaching of Mormon Apostle, Orson Hyde. He was among the first to be baptized in England in September of that same year and was later ordained an Elder. He emigrated to Nauvoo, in 1841 where he served the Mormons as the foreman of all woodwork on the Nauvoo temple.
In a cruel irony, Miles' conversion at the preaching of Orson Hyde had a backstory not known to him, and probably not known to Orson Hyde at the time.
The Mormon "Prophet", Joseph Smith, having sent Orson Hyde on extended foreign missions (quite probably in a similar spirit that King David sent Bathsheba's husband to war), apparantly, became quite transfixed with the beauty of Orson Hyde's young 15 year old wife,
Marinda Nancy Johnson
, now left alone in Nauvoo in circumstances of abject poverty. She became one of the sexual conquests of Joseph Smith and was lured, with anticipation of relief of her stuggles with her poverty, into what was defined as a "plural marriage" ordained by a God who needed it to be
a secret at the time
.
One of Joseph's "revelations" defined and justified plural marriage, but not in this way or under such circumstances.
Needless to say, upon return from his missions, Orson Hyde's relationship with his now shared wife suffered the predictable strains. Miles Romney never entered into polygamy. His son, Miles Park Romney, married five wives.
Click here to learn about Park Romney of Park Romney Research.